6 Smart notepads and pens to boost your work life
Taking notes on a paper notepad with a pen is a thing of the past. Or, is it? With these smart notepads and pens, you can combine traditional methods with innovative technology.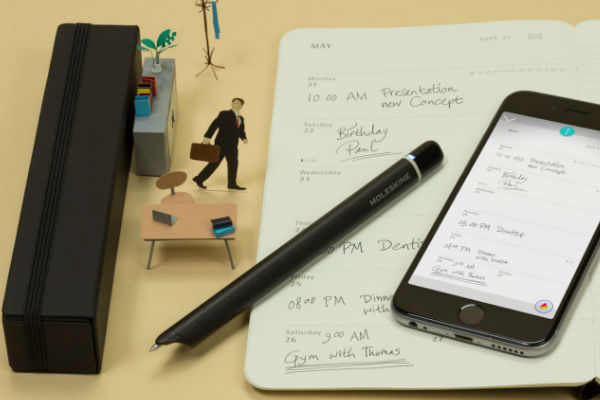 Can taking notes help you more productive? Apparently, taking notes is a healthy process. It will not only help you relieve stress but also retain more information.
Is there a journal to build your focus? This beautiful book helps you concentrate on the tasks that matter. The pages help you to prioritize urgent to-dos and find time for longer projects.
How can daily journaling change your life? The daily in-depth experiences can actually help you analyze your performance and live an even better life.
No matter how many smartphones, tablets, and laptops you have in your life, going back to the tactile side of taking notes has its own advantages. Even though it sounds old school to maintain a journal or take notes on pen and paper, the process is actually very helpful for your brain and productivity. But, is it practical enough for our digital world?
Thanks to these smart notepads and pens, you can combine the traditional (and effective) method of pen and paper with the innovative technology of today.
Moleskin Pen+ Ellipse Smart Pen
Enjoyable and easy to use, the Pen+ Ellipse smart pen comes with the perks of boundless digital creativity. You can choose from a variety of compatible layouts and paper formats to create your own Smart Writing System. Using Ncoded paper technology, the Smart Writing System enables the Pen+ Ellipse to identify individual pages and different Paper Tablets.
Why we love it: It's smart enough to recognize a variety of layouts and paper formats.
Smart Planner by Moleskine
This planner uplifts your paper writing experience in this digital era. Coming as an extension to Moleskine's smart writing set, this planner syncs your handwritten schedule with the cloud. In fact, this planner is for those who enjoy writing in their planners more than using an online calendar.
Why we love it: Sync your handwritten schedule with the cloud.
Revo Connected Paper Journal
The Revo Journal allows you to attach items straight from your mobile phone to your journal. You can enhance your journal content by embedding images, videos, music files and internet links on the page via a QR code. Simply write in the journal as you do with regular journals.
Why we love it: Finally, you can incorporate your daily notes with digital media.
Slice Planner – First Notebook Connected to Digital Calendars
Designed to solve Paper planner vs. digital calendar dilemma, the core pillar of the approach, helps visual thinkers have a better perception of time and significantly improve their time management skills. The circular timeline diagram is a treat to your eyes as well as your schedule.
Why we love it: It helps make your schedule look more intuitive.
Wacom Inkling Digital Sketch Pen
The Inkling looks and draws like a normal pen but it actually captures, digitizes, and stores all of your sketches until you transfer them to your Mac or PC. Using the provided Sketch Manager software, you can upload your sketches straight into PhotoShop, Illustrator, and SketchBook Pro.
Why we love it: The perfect device for sketching artists and designers.
Equil Smartpen 2 – Transfer Handwritten Notes to the Cloud
It features a Bluetooth interface which means it can connect with most Bluetooth-enabled devices. You'll get to capture handwritten notes and sketches directly to the cloud in a more traditional way and view them on any of your devices. The setup includes a receiver with memory, charging case, Micro USB charging cable, and an extra ink cartridge.
Why we love it: Your notes from all over can be organized in one place.
Writing down your notes and ideas doesn't seem so outdated after all. What do you think? Do you use paper and pen, online apps, or something else?
The Gadget Flow Daily Digest highlights and explores the latest in tech trends to keep you informed. Want it straight to your inbox? Subscribe ➜