The Core Wants To Redefine What A Portable Speaker Is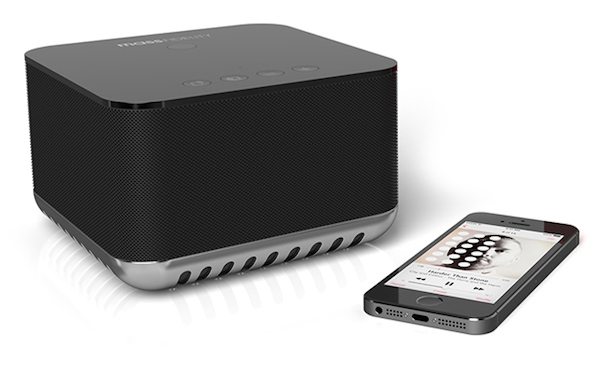 If you own a smartphone or tablet and you stream music to it, you know there are plenty of times when you want to enjoy that rap tune or operatic solo on something larger then earbuds. There are a variety of speaker style devices out there already letting you do this, and now a new one said to offer high quality audio in a wireless format is joining the pack.
Known as The Core, what you have here aims to be the next evolution in small and compact stereo speakers. This device is designed to bring the sounds of two spaced apart high fidelity speakers into its tiny body, making use of several so-called cutting edge acoustical technologies to create its high audio quality footprint. These include an array of internal mid/high range frequency speakers that work with a downward firing woofer, digital signal processors, "acoustic holography" to produce a stereo sound field, "wave field synthesis" audio rendering and more.
What It Can Do For Your Mobile Audio Enjoyment
Beyond the bevy of various acoustical technologies that make this little box of a speaker act like something much bigger audio wise, what really lets The Core stand out is its use of Bluetooth to wirelessly connect with something like an iPhone. Making use of high power Class 1 Bluetooth, which lessens dropouts while extending range, you can play through it a streaming song from iTunes or other services such as Spotify and Pandora.
In terms of portability, this lightweight gadget can easily be carried from room to room for your entertainment needs, operating even without being plugged in for up to 12 hours via its internal rechargeable battery. Also, should you instead desire to have the same audio blasting in multiple rooms of the house, you can connect several Core products together wirelessly through its own 5 GHz dedicated music network that requires no wireless Internet or router to make use of.
The Core, as a product that has five years of development and a strong team behind it, is well thought out in a host of other features it has tucked inside its well designed and good looking exterior. These include gesture control based audio track advancement, home automation compatibility, NFC touch to pair integration, speakerphone support for paired smartphones, analog/digital inputs to connect to wired audio sources, subwoofer support and even a USB port to recharge your mobile audio device.
As it stands right now The Core is up for crowdfunding support on Indiegogo. It seems to be resonating well with the tech crowd as a viable product, especially given the fact that as of the writing of this story it had surpassed its initial funding goals by over $700,000, making it likely one of the most successful gadget-oriented crowdfunding campaigns in history.