Samsung A Galaxy event highlights – The triple-camera A7 and quad-camera A9
Samsung just released two new phones in their Galaxy series - the Galaxy A7 and Galaxy A9. While the former comes with a triple-camera system, the latter is packed with a powerful quad-camera system for even better photos.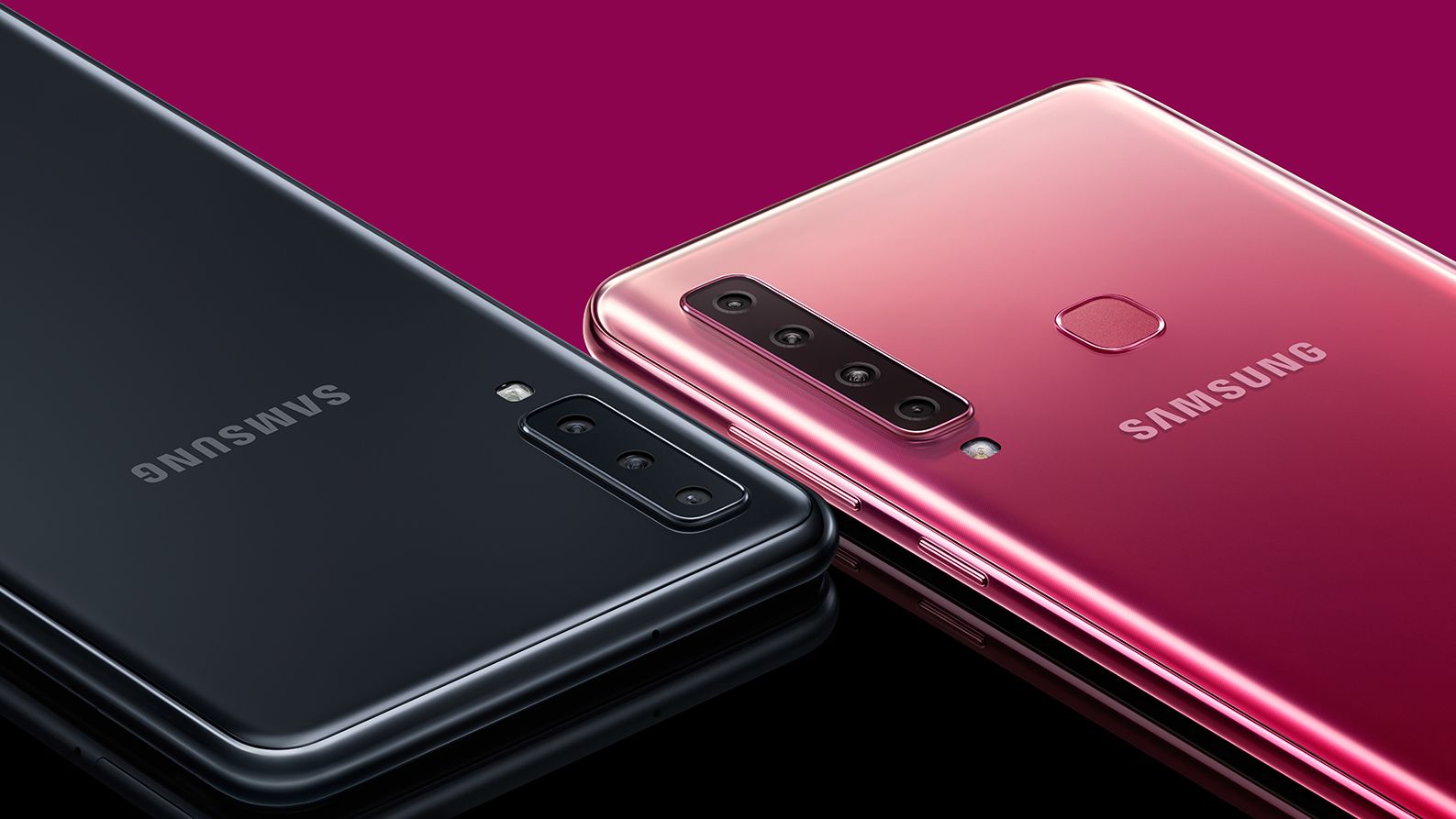 What's the latest Galaxy phone in the Note series? In August 2018, Samsung launched the Note 9 with a 6.4-inch display along with more features.
When will the new Galaxy A7 and A9 be available? You can grab the A7 today while the A9 will be available from November 2018.
What's the maximum storage on the new Samsung phones? These devices have a total of 600GB of storage – 128GB is built-in storage ad you can expand it by up to 512GB.
After the Unpacked 2018 in August, Samsung is back again with a brand new series of phones that concentrates on intelligent camera quality. Introducing the Galaxy A7 and A9 – the two new Galaxy flagships that will take your mobile photography game one step further with a triple- and quad-camera systems.
Samsung Galaxy A7
The Samsung Galaxy A7 phone features a triple-camera system (yes, that's three cameras) that's designed to take ultra-wide shots with ease.
– Triple camera with ultra-wide angles: The system includes a 24 MP low-light camera, 8 MP ultra-wide camera, and a 5MP live focus camera. Together, they give you an ultra-wide image view with a 120-degree FOV. The camera also includes intelligent features to capture 19 scenes for perfect image optimization. Also, the Background Blur Shape will help you focus your images better and create more vivid images. Even in low light conditions, the camera combines 4 pixels into 1 to give you a better-exposed photo. The 24 MP selfie camera comes with an adjustable LED flash to enhance each photo with pro-level lighting.
– Extremely slim design with smooth curves: The Super AMOLED Infinity Display gives you incredible color reproduction as well as deep contrasts to make all your content pop. Additionally, the Dolby Atmos sound creates a more immersive sound experience while you watch movies or videos.
– The 7.5mm-thick glass body is complete with a glossy finish
– Four colors: Blue, Black, Gold, and Pink
– Color truly pops thanks to the etched and optical pattern deep under the glass
– The fingerprint scanner is integrated with the power button on the side for faster unlocking
– With the Samsung Exynos 2.2 GHz Octa-Core processor and up to 128GB expandable memory capacity, you can get more done than ever
– Available from today
Samsung Galaxy A9
If you use your phone for the camera more than anything else, the Samsung Galaxy A9 is the phone for you. It's possibly the world's first quad-camera smartphone with crisp image quality.
– Quad-camera system for that perfect picture: The quad-camera system of this phone will help you capture your moments even better. The four camera system includes an Ultra Wide Camera, Telephoto Camera, 24MP Camera, and Depth Camera. Additionally, you can use Scene Optimizer and Flaw Detection for capturing images with ease.
– The metal frame is sleek and comfortable to hold
– Colors: Caviar Black, Lemony Blue, and Bubblegum Pink
– Anodizing process to bring out the perfect color on the phone
– The stunning 6.3-inch FHD+ Super AMOLED Infinity Display provides a more vivid viewing experience and, thanks to the wider screen and Always on Display, you can easily view more key information such as the date, weather alerts, time, and incoming notification
– The phone also features a highly responsive mobile Octa-Core processor with 6GB or 8GB RAM
– Security with convenience with face-recognition
– 128GB of built-in storage with an expandable memory capacity of 512GB
– Massive 3800 mAh battery capacity
– Selfie camera is 24MP
– The rear has a quad-camera system
– The main rear 24MP camera adjusts to the moment
– The smart sensor merges four pixels as one for better clarity
– The camera AI can identify 19 different scenes
– Ultra-wide camera features a 120-degree angle which equals that of the human eye point of view
– Telephoto lens has 2X optical zoom
– There's a dedicated lens for depth that lets you easily focus on your subject
– Available from November 2018
Are three- and four-camera systems the new norm? What does this mean for all the other smartphones on the market? Share with us in the comments below.
The Gadget Flow Daily Digest highlights and explores the latest in tech trends to keep you informed. Want it straight to your inbox? Subscribe ➜