Which Segway transporter is the best for you?
Are you looking to buy a Segway transporter? Then, you're in the right place. In today's article, we've created a round-up of the top devices to choose from for a plethora of uses. Continue reading to explore our top choices.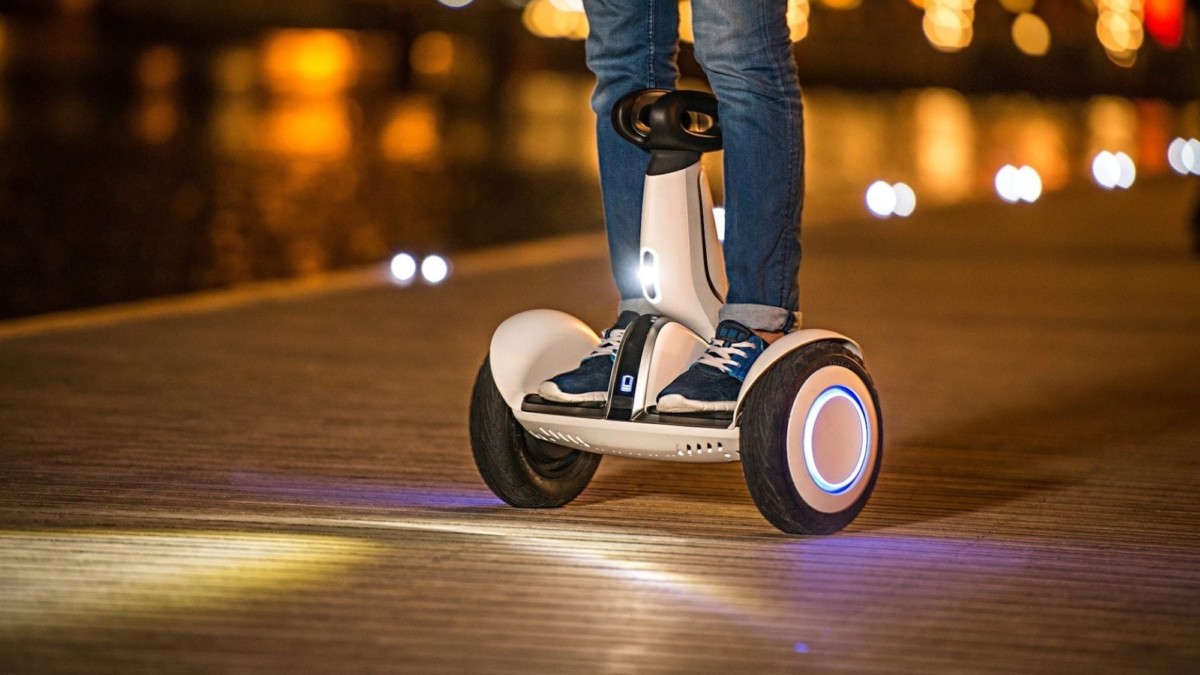 Segway has a plethora of transporters available—ranging from an egg-shaped vehicle to self-balancing wheels without any handlebars. With all of this choice, you might be overwhelmed with finding the right Segway transporter for you.
Don't hesitate, because we've searched the internet for the best options that are catered to everyone's individualist needs.
Segway S-PLUS Electric Transporter
What it's best for: Traveling far on a single charge
The Segway S-PLUS electric transporter boasts a whopping 22-mile range and can travel up to 12 mph. Best of all, it promises to keep you balanced, thanks to the 11-inch air-filled tires that keep you stable. Therefore, you can travel long and far without any galls. And with this balancing mechanism in mind, you can even transport heavy items while you're on the Segway.
In addition, this Segway transporter features a Follow mode that automatically travels next to you while you're walking; this is great for times when you need to keep your hands free. In fact, you'll also receive a multi-functional remote control that you can use as a joystick to control the Segway S-PLUS. Plus, you can explore a range of terrain on the S-PLUS, thanks to its 800 W motor that accelerates up hills and even on slight terrain.
Constructed from lightweight magnesium alloy, the S-PLUS can hold up to 220 lbs of weight and maintains a sturdy, well-balanced design. It also boasts a 329 Wh Li-ion battery that supplies 1500 W output energy, providing all the power you need for your journeys. And with a water rating of IP54, it's water resistance, so you don't need to worry about taking it for a spin in the rain.
Specifications
Mile range: 22
Maximum speed: 12 mph
Motor: 800 W
Segway-Ninebot Air T15 Electric KickScooter
What it's best for: City commutes
Travel around your city easily with the Segway-Ninebot Air T15 Electric KickScooter. Surpassing the S-PLUS with a top speed of 12.4 mph, this Segway transporter is nippy and responsive. And it even includes four riding modes to tailor your needs to the location and speed. Plus, with cruise control, you'll receive all the assistance you need for mornings when you haven't quite woken up yet.
In addition, the T15 folds flat seamlessly, allowing you to keep it in your trunk or easily switch from pavement to the train. And the six-axis sensor automatically detects when it's not in operation mode to turn the power off automatically. In fact, the Air T15 is designed to be transported like a suitcase once it's folded. This compact size and its light weight makes it highly convenient and portable for storing anywhere.
This Segway transporter is equipped with various features that make it user-friendly, energy-efficient, and fun to ride. In particular, its elongated L-shape handle makes it ergonomic and comfortable to hold while you're traveling. Best of all, the bar and tail lights let the world know your presence with every movement. You can even choose the colors under different selections: Monochromatic, Full Color, or Emergency Light. This is great for traveling in dark conditions.
Specifications
Mile range: 7.5
Maximum speed: 12.4 mph
Motor: 300 W
Segway Ninebot KickScooter ES2 Upgraded Mobility Scooter
What it's best for: Night-time use
The Segway Ninebot KickScooter ES2 upgraded mobility scooter features a 1.5 W led headlight to help you ride safely at night or during winter days. Plus, the bottom LED light allows you to see the ground clearly. In fact, you can customize these LED lights to the ambiance you're looking for—helping to improve your visibility when it's dark.
It's equipped with a powerful 700 W motor that can reach a top speed of 15.5 mph and travel up to 15.5 miles on a single charge. And it only takes 3.5 hours to fully charge from a dead battery. You'll see the remaining battery life and your current speed via the built-in LED display, so you always have the information to hand at a glance. Best of all, it features a convenient foldable design that makes it great for storing in the office, in the trunk, and in more places.
Furthermore, the Ninebot scooter features a one-click folding system that makes it ideal for taking to work or carrying on public transportation. And its lightweight aluminum frame makes it incredibly durable and robust. But the Ninebot scooter goes beyond appearance and materials and focuses on your safety. With customizable LED lights, your safety and visibility will always be the most important thing. And it even comes with a front and rear shock absorber to reduce any impacts while you're riding over bumps.
Specifications
Mile range: 15.5
Maximum speed: 15.5 mph
Motor: 700 W
Segway miniPRO Self-Balancing Personal Transporter
What it's best for: Having some fun
Travel at 10 mph for up to 12.5 miles with the Segway miniPRO self-balancing personal transporter. Sporting a powerful 800 W motor, it can whizz down paths while offering a world of fun for users. In fact, this Segway transporter requires some sense of adventure for venturing out onto the streets.
However, this edition features two 10.5-inch air-filled tires to offer a smooth ride, no matter your environment or the terrain. And with no handlebars to hold onto, you'll be completely in control of the Segway. You'll also receive an automatic headlight and customizable LED taillight to improve your visibility and safety when riding at night.
Designed with a Bluetooth connection, you can lock your vehicle, obtain firmware upgrades, and receive social connection options via the Ninebot by Segway app. This makes it highly accessible for various purposes. And, throughout your journey, the IP54-rated protection keeps your Segway free from rain and mud, making it suitable for exposure to harsh environments.
Specifications
Mile range: 12.5
Maximum speed: 10 mph
Motor: 800 W
Segway-Ninebot S-Pod Two-Wheeled Vehicle
What it's best for: A relaxed ride without restrictions
But if you want to travel around your home town without standing up, the Segway-Ninebot S-Pod two-wheeled vehicle is for you. This Segway vehicle balances on its own while you ride in a seated position to eliminate any nerves about balancing. And it can travel up to a speed of 24 mph, so there might even be occasions where you beat the traffic.
Its unique egg-shaped design makes it stand out and provides an array of comfort during use. In fact, it's self-balancing and has a center-of-gravity control system that adjusts to the speed you're traveling. As a result, it won't tilt too far forward or backward for maximum comfort and enjoyment.
Furthermore, the S-Pod is fun and easy to operate. Compared to other Segway transporters, you don't need to lean forward to accelerate. Instead, simply turn a knob on the navigation panel to move forward. This is great for maintaining a relaxed position during use. The S-Pod also features a high, rounded back and appearance like an egg chair. This allows you to explore wide-angle views with maximum comfort and eliminate any tension around your head and shoulders.
Specifications
Mile range: No mention
Maximum speed: 24 mph
Motor: No mention
Segway Drift W1 Self-Balancing Electric Skates
What it's best for:Fun in summer
Opt for the Segway Drift W1 self-balancing electric skates if you want to have some fun in the outdoors when the weather calls for it. Skate up to 7.5 mph for 45 minutes for some guaranteed fun times. And Segway's electric skates boast a 10˚ easy-climbing capability, so you can tackle uphill journeys.
In addition, these skates are equipped with silicone bumpers to protect them during use—helping to eliminate any damage when you're feeling adventurous. And the ambient LED lights make them appropriate to use when the sun draws in. Also, the slip-resistant mat maximizes your comfort and safety, helping to prevent your feet from sliding off during use.
Specifications
Milerange: 45-minute ride
Maximum speed: 7.5 mph
Motor: Hub
Segway Drift W1 e-Skates
What it's best for: Taking anywhere
Use the Segway Drift W1 e-skates with friends to have fun in the sun. These electric hover shoes use balance wheel technology while offering the practicality of rollerblades. They're also lightweight and portable, allowing you to take them with you everywhere you go.
You don't need to be afraid while wearing these Segway e-skates. In fact, they rely on your balance and movement to determine speed and direction. And as you lean forward, the Drift W1 moves faster, and likewise when you lean back. The e-skates top speed is also slightly slower than the W1 self-balancing skates, helping to provide you with a bit more peace of mind.
These e-skates are equipped with a tail light that warns people and cares of your presence at night. Plus, you can create some fun effects in the dark with the tail light once you grow confident with the skates.
Specifications
Mile range: 45-minute ride
Maximum speed: 7.4 mph
Motor: 2 x 44.4 Wh battery
What can you expect for future Segway transporters?
The company has created a whole new way of transporting from A to B, making the journey more exciting than traveling by foot or car. Announced last year, Segway is ending production of its original two-wheeler, which was mostly used for city tour guides and by police forces. First launched in 2001, this self-balancing vehicle promised to revolutionize personal transportation, and it certainly did.