Video Conferencing is Effortless and Streamlined with HELLO
How was your last video conference? Was the image delayed? Pixelated? Non-existent? How about the audio – echoes, choppy, or worse? Whether you're chatting from home or the office, your video conferences will greatly improve with HELLO.
HELLO is an extremely smart video conferencing device. It's voice-controlled and offers screen sharing, live broadcasting, and security surveillance all at an affordable price.
Connecting right to the TV in your home or office, HELLO is designed to get people connected face to face wherever they are. Tackling the problems currently associated with modern video calls, HELLO allows for crystal clear audio, stunning visuals, and an easy to use interface.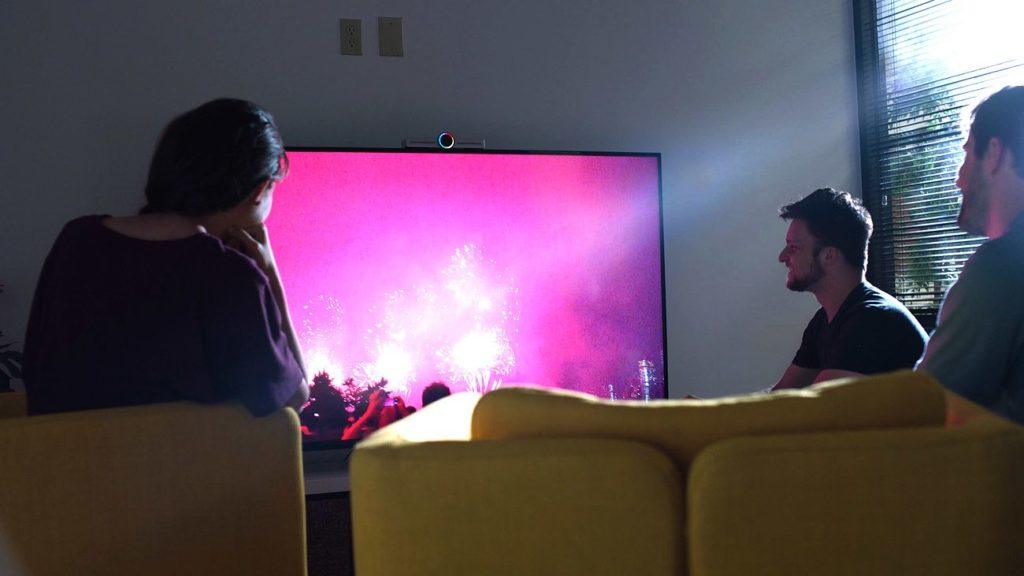 HELLO is the totally streamlined solution for video calls. It works by connected with the accompanying app for smartphones and accessing the Solaborate platform. By simply connecting the device via an HDMI cable, HELLO can be mounted above or below the TV and in any orientation. The incredibly innovative software enables voice commands for controls to produce a hands-free experience.
Aside from standard video calls, you can instantly and wireless share your screen, live broadcast from your smartphone, and link multiple HELLO units for group video calls. Other callers can access the video conference through their own HELLO device, the Solarboate platform, as well as the apps for devices such as iPhone, Android, Mac, and PC. With a built-in sensor, HELLO can even act as your security system after you've gone home. This innovation is all encased in a beautiful exterior available in satin black or metallic silver to suit the décor of any home or office.
Packed inside the sleek hardware are four smart microphones to pick up audio even from the back of the room, a 4K video sensor, and a quad-core processor. The device is also equipped with a built-in accelerometer and a 130-degree tilting wide angle lens with no distortion.
[tweet_box]With such great technology in one spot, HELLO enhances any meeting.[/tweet_box]
The HELLO system is just as easy to set up as it is to use. The device connects to your network either over Wi-Fi or through an Ethernet cable. From there, simply download the app, create an account, and place the QR code on the app in front of the camera. HELLO will detect your account and you're good to start making calls.
Remember I mentioned that all of this technology comes at an affordable price? Backing the HELLO system on Kickstarter gets you the device for the super early bird price of just $149 (act fast – there are only a limited number at this price!). There are also bundle options for home and office as well as enterprises. Every backer also receives unlimited lifetime use of HELLO at no cost. You'd better act fast – the campaign finishes on September 7th and early bird pricing is limited.
Admittedly, meetings can be boring but the HELLO system certainly makes me want to attend. What other technologies could be applied to make meetings more effective?