10 Best kitchen gadgets and accessories for your summer drinks
Get creative with your drinks this summer with an abundance of kitchen gadgets and accessories. In today's Daily Digest, we have a selection of 10 devices that encourage you to make healthier choices, accommodate social gatherings, and upgrade your kitchen setup. Continue reading to explore our top picks.
A new season calls for reflection. In the sweltering heat, you'll need to stay hydrated, so there's no better time to take your summer drinks to the next level with the best kitchen gadgets and accessories. Designed to enhance the ingredients' natural flavors and kick pesky chemicals to the curb, these accessories are family friendly and will add a revamp to your kitchen's countertop.
Related: The best portable air conditioners for purification everywhere you go
We've included a diverse list to encourage you to drink healthier while helping to preserve your favorite wine. Expect power blenders that chop through tough ingredients and an in-home drink system that eradicates toxins from drinks. Take a look at our top selections below.
1. Blend filtered water with vitamins and antioxidants with the Vitapod in-home drink system. The entire family can use it.
Get healthier for summer 2021 with the Vitapod in-home drink system. This kitchen accessory features a multi-pass filtration system that removes harmful microplastics and toxins. Moreover, it cools your water to 50–59 degrees for optimal hydration. So you can stay cool for the summer in seconds.
Order this kitchen gadget for a reduced price of $199.99.
2. Enjoy coffee with full-bodied flavor with the KitchenAid Cold Brew Coffee Maker. It's one of the best kitchen gadgets for coffee enthusiasts looking for a summer accessory.
Designed with a convenient stainless steel tap to dispense your cold brew from the refrigerator, the KitchenAid Cold Brew Coffee Maker is great for portability. Plus, its generous 28-ounce capacity allows you to accommodate guests, or you can simply store cold coffee ready for the next day. Additionally, its small footprint is ideal for storing on your kitchen counter when it's time to serve.
Purchase a refurbished version from eBay for $69.99.
3. The GE Profile Opal nugget ice maker is a must-have kitchen gadget for summer. It can hold up to 3 pounds of ice at a time.
Keep cool in the heat with the GE Profile Opal nugget ice maker. This kitchen accessory produces ice in less than 20 minutes. In fact, Opal can make a pound of ice every hour and hold a large quantity at a time. That way, you'll never run out of ice and always have some ready for serving your next cocktail or fresh juice.
Order this ice maker for $549.
4. Get healthy and experimental this summer with the Beast B10 Health Blender. Designed with intelligent technology, the blades maintain a consistent speed for the best results in minimal time.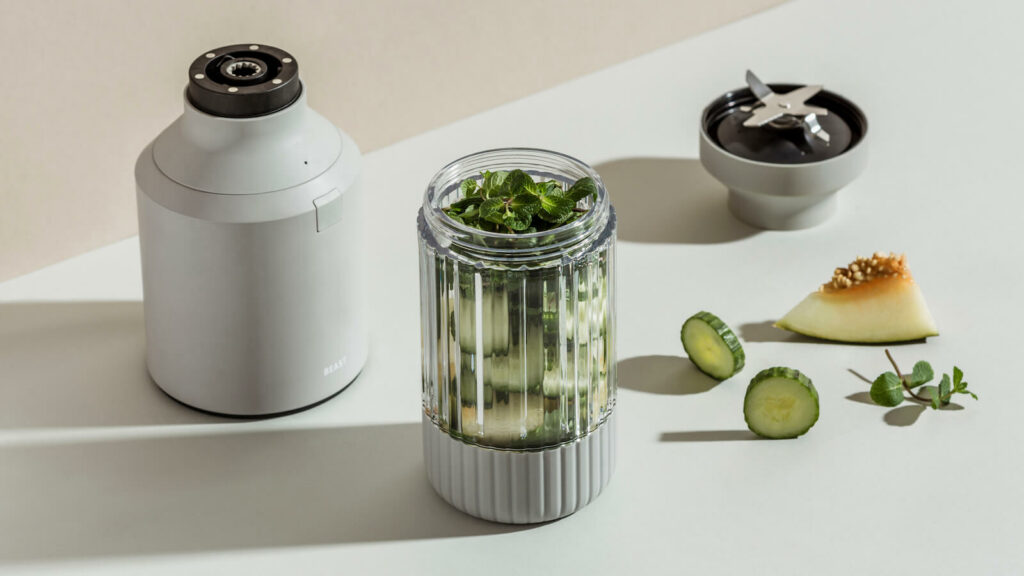 Use the Beast B10 Health Blender to craft nutritious smoothies and delicious cocktails from home. It features a 12-rib design that creates intense internal turbulence for smooth blends. All the while, it monitors the internal temperature to prevent overheating and blending liquids. Finally, with a 1000-watt motor, it'll chop up ice and frozen ingredients in seconds.
Order this kitchen accessory for $155.
5. Engineered to blend tough ingredients at high speeds, the Ninja Foodi Power Nutri DUO Blender smoothie maker is a must-have summer accessory for making healthier decisions, daily.
The Ninja Foodi Power Nutri DUO Blender smoothie maker includes a 1,200-peak-watt smoothie bowl maker that can blend and power through thick smoothies. Moreover, it features smartTORQUE technology to power through heavy loads without stalling or the need to stir or shake. With this smoothie maker, there's no excuse for not making healthy choices.
Purchase this smoothie maker for $119.99.
6. Drink cleaner water with the AquaTru countertop water purifier. It removes 83 contaminants from your drink, easily.
With the summer heat, you're going to consume more water. Make sure that what you're drinking is pure and healthy with the AquaTru countertop water purifier. Using 4-stage Ultra Reverse Osmosis technology, it removes 83 contaminants from water including lead, chlorine, fluoride, nitrate, and more. Plus, its 4-gallon capacity makes it perfect for a family household.
Order this water purifier for $449.
Wine lovers will appreciate the Coravin Model Three wine preservation system. Simply insert this device into the cork, and it'll remain secure and ready to use. When it's time for some wine, tip the bottle as you normally would to fill your glass. Plus, with its ergonomic handle, you won't have to worry about dropping it while you pour.
Purchase this or gift it to a wine enthusiast for $149.95.
8. Make ice cream, frozen cocktails, slushies, and more delicious drinks at home with the ColdSnap frozen treat machine.
Upgrade your drinks with the ColdSnap frozen treat machine. This kitchen gadget produces velvety textures that guests will love, making it a great addition to a summer party. Moreover, it's simple to use. Place the single-serving pod into the machine and, after a maximum of two minutes, your frozen treat is ready.
The release date and price for this machine are TBA.
9. Perfect your summer cocktails with the Barsys Drink-Measuring Coaster. It turns you into a home bartender to impress guests.
The Barsys Drink-Measuring Coaster is a must-have for hosting a summer party. Plus, it's easy to operate. Simply select your drink and follow the instructions on the app. The Coaster illuminates and changes colors to indicate when it's time to stop pouring each ingredient. So you'll never go wrong with your at-home creations.
Order this cocktail accessory for $95.
10. Keep beverages cold for hours with the StowCo Portable Drink Cooler. You don't even need ice cubes or an ice sheet.
Take your party anywhere with the StowCo Portable Drink Cooler. Or use this summer accessory to keep beverages cold at home or in the backyard. It holds 3 wine bottles, 10 beer cans, and 6 beer bottles. So this can accommodate a slew of guests. Best of all, its laptop-case style makes it super stylish and convenient to carry.
Get this kitchen accessory from Amazon for $59.
Overall, your kitchen deserves a revamp, and you deserve a frozen cocktail in the evening or a fresh, fruity smoothie to start your day. The above selections are great for all of your summer needs. Which are your favorites? Let us know in the comments.
Want more tech news, reviews, and guides from Gadget Flow? Follow us on Apple News, Google News, Feedly, and Flipboard. If you use Flipboard, you should definitely check out our Curated Stories. We publish three new stories every day, so make sure to follow us to stay updated!
The Gadget Flow Daily Digest highlights and explores the latest in tech trends to keep you informed. Want it straight to your inbox? Subscribe ➜