Enjoy Home Monitoring With the Anyware Smart Socket Adaptor
Considering the kind of natural monitoring features that come with smart home products, it's not surprising to hear that more than a quarter of Americans (28 percent) already own some of them. From monitoring your sleep to automating your garden sprinkler, the smart home industry is pretty versatile and useful in many ways. Having had the opportunity to review many of the latest smart home products in recent times, I can say that in spite of being so useful, they are often too bulky or come with a complicated setup. Now, that makes them not too beneficial for the kids or the elderly.
You need something more simplified for them. Something that will monitor your home in an easy way without compromising on its functionality or efficiency at all. The best I could refer from that genre as of now would be Anyware – All-in-One connected device for your lamp sockets.
Home Automation Made Simple
Unlike today's smart home systems which typically integrate various sensors and actuators (dimmers, etc.) around a gateway or controller unit, Anyware gives you the functionality of a complex conventional home automation system in one product. You just need to attach it to your lamp socket (currently supporting E27/E14 ("European") and E26/E12 ("North American") variants) followed by an LED bulb or bulbs that consume less than 13W (which will typically give you 800-900 lumens light) and that's just about it.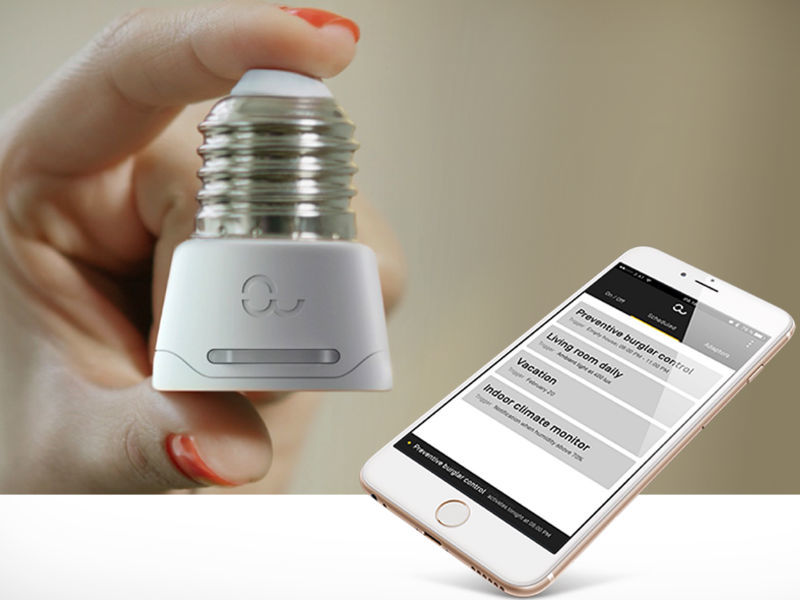 Enjoy "Scenes" to Control Your Home
You can configure and control the adaptor easily with the help of the corresponding mobile app (Android and iOS) that comes with a cloud solution too. Every functionality that comes with the adaptor is represented in the form of "scenes" which can be activated with a simple tap on your phone.
[tweet_box] Enjoy better #homemonitoring with @anyware_now – the smart lamp socket adaptor! [/tweet_box]
As stated on their crowdfunding campaign, "In addition, the scenes can be run according to schedules or set to constantly monitor, for example indoor climate conditions or 'listen' for intrusion whenever the house is empty."
Coolest Solution For Holiday Home Monitoring
The various features you get with Anyware consists of preventive burglar control, baby alarm, advanced lighting control for a home cinema ambience, indoor climate monitoring as well as remote monitoring for days when you're out of town. It can be considered as one of the coolest solutions for holiday home monitoring and control that will ensure to keep your home safe even when you're out of town. Additionally, the Anyware smart adaptor team is on the works to make this controller compatible with Apple Home Kit as well as other smart home players such as Nest, Amazon Echo and SmartThings. They also intend to become a part of the IFTTT network which might ease up things even more.
Anyware is currently available for a pre-order price starting of $60. It will be available in white and black colors. This isn't just another smart home product; it's what you can consider a smart home revolution for those who like simple yet efficient product designs. Do you think such smart home products are much needed in the industry today?