Ohsnap is the smartphone grip that works at all angles
With their sleek curves and itsy bitsy waistlines, modern mobile devices can be quite tricky to hold safely. Ohsnap is a magnetic smartphone grip that works like a safety harness, without restricting you to portrait mode.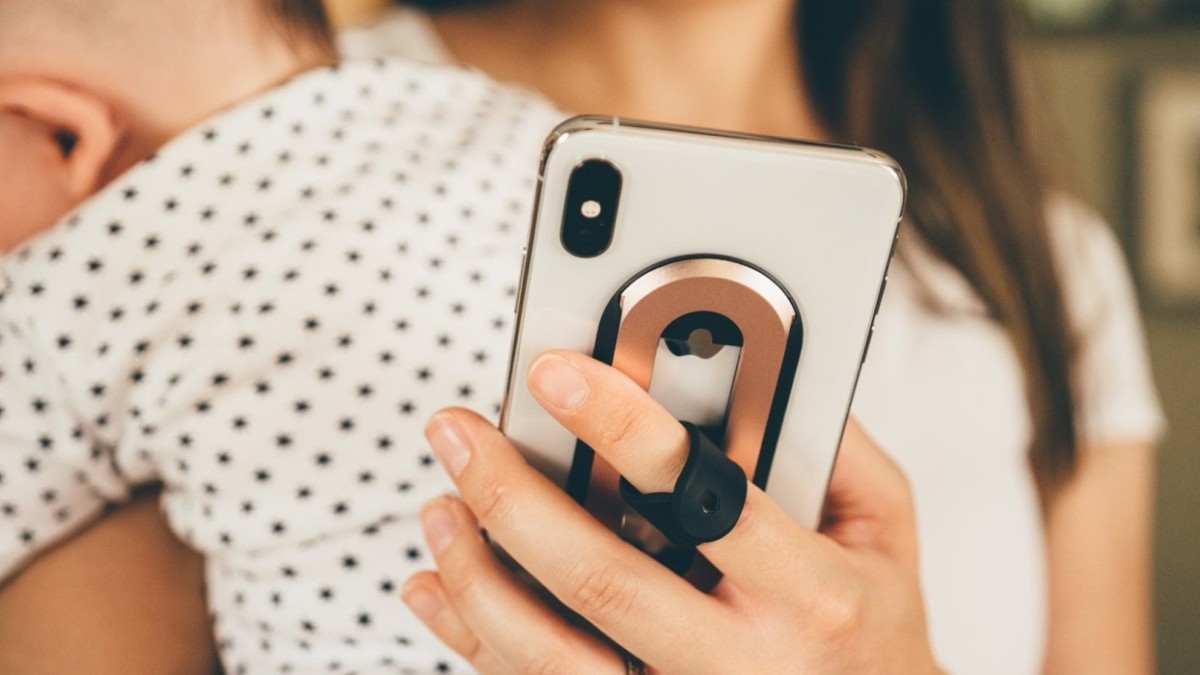 If you wanted to design an object that was difficult to hold and easy to break, you would probably take inspiration from current smartphones. Most have tiny edges, covered with shiny glass and polished metal. If you value your device, it's almost essential to get yourself a smartphone case or grip. However, many smartphone grips are quite chunky and inflexible. Ohsnap offers a smart alternative. This magnetic smartphone grip lets you maintain a firm hold through 360 degrees.
What is a magnetic smartphone holder?
Most smartphone grips are large rubber node that you slide between your fingers. The design offers a secure hold, but you won't be able to slide your phone into your pocket any time soon.
In contrast, Ohsnap lies flat against the back of your phone. When you need a better grip, you just press the central area and a finger loop pops up. You then slide your digit inside the newly-created ring which is attached to the main plate by a hook.
This system offers total security and the option to rotate your phone through 360 degrees. This is particularly useful when switching between portrait and landscape modes. The backing plate also lets you slide your phone up and down, making it easier to reach your notifications with one hand.
Once you have finished checking your emails or playing games, you simply remove your finger and press the loop flat. In this mode, Ohsnap is just 0.11 inches thick.
The grip is easy to apply to your phone or case, and it leaves behind no sticky residue.
Clever smartphone grip
These features would be impressive enough for a smartphone grip. However, Ohsnap has some great party tricks.
Firstly, the finger loop doubles as a sturdy kickstand. This means you can easily sit back and watch videos on the go.
Because the metal backing plate is magnetic, you can use Ohsnap to stick your phone on the fridge. Equally, you can attach Ohsnap to any magnetic car mount, and use it with wireless chargers.
This accessory even looks the part. It comes in four color options, mirroring the designs of top smartphone makers.
"Ohsnap is a non-invasive, premium phone grip that makes it simple and easy to use your phone, no matter the circumstance. It adheres directly to your phone or phone case and provides tremendous functionality without sacrificing fashion or bulk. Ohsnap provides incredible utility while remaining so sleek and thin that you won't even notice it's there until you need it." — Dale Backus on Kickstarter
What we ❤️
This smartphone grip is a truly elegant solution to a recurring problem. The design is ingenious, and you won't ever feel worried about using your phone with one hand.
Future designs
Ohsnap backers will now receive magnetic plates for mounting their device anywhere. In addition, backers will get the chance to add a custom color to the line-up.
Availability
Ohsnap is raising funds on Kickstarter until October 4. Pre-orders start at $15, with the product due to be shipped later in October. If you value your new device, we would highly recommend getting this smartphone grip!