A gaming lap desk that will let you game in comfort
You can't get enough of your games and, these days, they're keeping you sane while you're locked indoors. But sometimes the strain of hunching over your laptop while you play causes lower back pain you could do without. Let's not even get into your tensed upper back muscles, which are trying to stabilize everything. But poor gaming posture isn't something you have to live with. There are more comfortable ways to game on a laptop, and the solution might be easier than you think.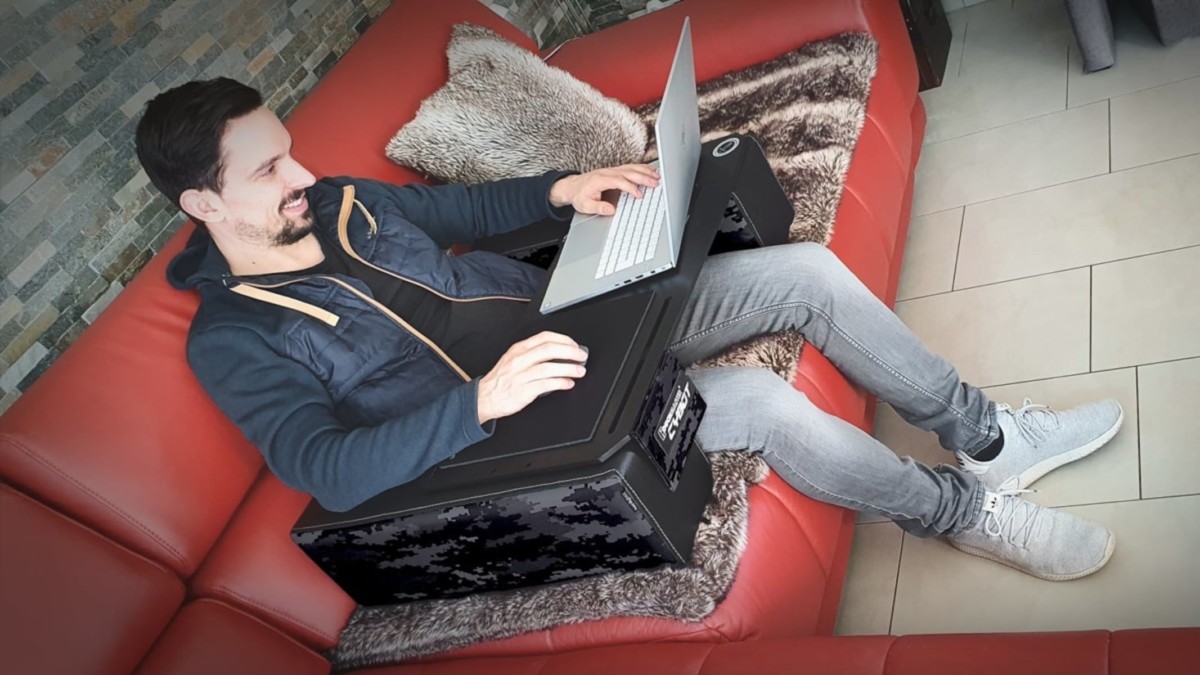 Good posture is important. Proper seating keeps your bones and joints in the correct alignment so that you can use your muscles the right way. But the most natural way to game on a laptop is with your back stooped toward your laptop while it's on a desk. This can result in upper and lower back pain. It's also incredibly uncomfortable. But you don't have to be in pain while you game. You deserve better. The Couchmaster CYBOT gaming lap desk can help. It holds your laptop so that you can game on your sofa, armchair, or wherever your back gets the most support. That's the comfort we can all agree on.
The CYBOT helps you keep your back healthy
With this gaming lap desk, you no longer have to set your laptop on a desk and hunch over it for hours while you play. The desk's unique design allows you to set it over your lap for relaxed but stable gaming. So no more suffering through hours of play with a strained lower back and tense shoulder muscles. The Couchmaster lets you play at a comfortable, reclined position.
Additionally, supportive wrist pads steady your hands while you play, helping you avoid carpal tunnel syndrome. And the military pixel side cushions provide a stable hold. So you won't have to worry about the desk sliding off your sofa. What's more, parts of the cushions feature Kevlar, which makes them incredibly sturdy.
The Couchmaster is an eco-friendly way to game
In addition to solving your gaming back problems, the Couchmaster is one you can feel good about using. It's made from ethically sourced, fast-growing bamboo, which means it's not wasting any scarce materials or harming people during its production. Also, bamboo is light and durable. You'll easily take it from one comfy seat to another, and it will last for years. These days, we all hate buying throw-away products. This is one gadget that will be a staple in your gaming arsenal for a long time, which might be its most eco-friendly attribute.
A cooling vent keeps your laptop safe
With gaming laptops, there's always the chance they'll overheat. And on the typical lap desk, this chance increases to highly likely. Luckily, this gaming lap desk is a real game-changer. It has a unique ventilation grille that allows your gaming notebooks to get air at all times. This vent will help keep your computer at the right temperature for optimum performance so you can game without worrying that your notebook will overheat. It can cool gaming notebooks up to 17-inches.
Convenient extra features make this gaming table awesome
This gaming lap desk also has some additional features that make it super-convenient.  A built-in mousepad means that you won't have to dig out that one you've got stored somewhere. And as an extra-large mousepad, you'll have remarkably free movement as you click. Also, a tablet holder on the top right corner lets you keep an eye on your tablet while you game. This way you can keep tabs on your social media feeds, or look something up quickly while you're fighting off enemies. And accessory bags on the side cushions keep your chargers and cables tidy. Finally, a mouse bag safely stores your mouse. Your gaming items have never been more organized.
A gaming station you can use for everything else
Gaming aside, the Couchmaster CYBOT is an overall excellent lap desk. Because of its comfort, durability, and organizational features, you can use it for any type of computer work. So if you're working from home, this gaming lap desk can help you get work done from your couch or bed. And if you want to watch a YouTube video or something on Netflix, you know the CYBOT will let you enjoy your favorite shows while you sit on a comfortable incline. The CYBOT can make just about any laptop or tablet task more comfortable and secure.
What we love about the Couchmaster CYBOT
We love that this gaming lap desk gives us a way to play without back strain. We also love that it's made from quality, sustainable materials. It's a purchase we can feel good about.  Best of all, it's great that the CYBOT includes extra features that make it super convenient not just for gaming, but for work and everyday computer use.
What we would love to see
For the moment, the Couchmaster CYBOT only comes in black. But since even non-gamers can appreciate such a useful lap desk, more color options could appeal to a wider audience.
Where can you get a Couchmaster?
You can buy a Couchmaster on the official website. It costs $119.