Must-have gadgets for your next camping getaway
While an all-inclusive resort sounds absolutely lush, nothing beats the great outdoors. Sleeping among Mother Nature has plenty of benefits but can also save you a pretty penny. Check out these top tips and devices for your next camping getaway.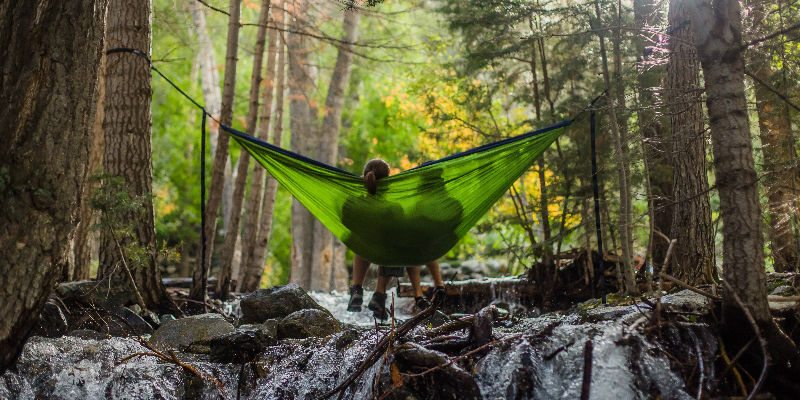 Never considered yourself an outdoors person? You might want to. Camping improves your immunity and mood as well as your sleep.
You can start by exploring the places on your doorstep. Pacific Overlander lets you rent expedition vehicles complete with a 2-person tent and all the amenities you need (and none that you don't). It's the ultimate way to explore off-grid.
And, the world is chock-full of great places to go camping. Check out this Buzzfeed list to do everything from fall asleep beneath the Northern Lights and wake up to crystal clear waters.
Spring is here and that obviously calls for a few days camping out in the woods. Warm temperatures are slowly on their way which makes the climate just about perfect for outdoor adventures. Surrounding yourself with nature helps you zone out from your day-to-day world. But, spring is also one of the trickiest times to be out thanks to unpredictable conditions. You need to make sure you're well prepared and protected from any adversities that might come your way. For those who are already living in a campervan, it's never too late to get new gadgets for your next camping getaway.
Get a tent that suits your lifestyle
Whether you're living in a camper or setting up your own tent, you need to make sure you're well equipped with the right gear to get the most out of your adventure. For some, little luxuries can make all the difference. But for others, setting up a tent is the only way to experience everything camping has to offer.
Feldon Shelter Crow's Nest Extended Rooftop Tent
This car rooftop tent comes with an extended body and rain-fly, which covers the entire ladder entry and creates more shelter underneath. With its aluminum base construction, the Crow's Nest Extended model is five times stronger than standard rooftop tent bases.
Mink Camper Icelandic Mini Trailer
Featuring a tough Webasto heater and thermostat, the Mink Camper will keep you warm while you explore all of Iceland. It also features a skylight and large side windows for 360° views.
GFC Platform Off-Road Popup Camper
Available in both soft and hard-sided versions, this camper features either Sunbrella canvas or aluminum panels for exceptional protection. Additionally, the boxed aluminum tent chassis with built-in utility tracks are strong enough to carry just about anything.
NSR Riding Bicycle Tour Camping Tent
Designed for your mountain bike, this tent keeps you and your gear safe and dry. The Bicycle Tour Tent has enough space inside to stash your entire bike (and you!) without taking it apart. It also stores your bike upright to minimize any damage.
SmithFly Shoal Inflatable Raft Tent
Incredibly innovative, this tent sits atop a highly durable raft so you can float as you sleep. The Shoal Tent has no tent poles. Instead, it's entirely inflatable. This makes it easy to assemble just about anywhere. Plus, it takes a lot less time.
Cooking while camping
It's imperative to eat well while you're out in Mother Nature. But, this can become a challenge when you don't have all the comforts of home. With the right gear and cooking systems, you can cook your meals to perfection even when you're in the middle of nowhere (without feeling like you're back in Stone Age)
Aquaforno II Portable Outdoor Cooking Stove
This versatile cooking stove works as a BBQ grill, pizza oven, smoker, rotisserie, water boiler, outdoor heater, and clothes dryer. Featuring a telescopic design, the portable design still saves a lot of space.
Uuni 3 Portable Wood Pellet Pizza Oven
This wood-fired beast can reach temperatures of 932ºF in just 10 minutes. The insulated body retains heat, making the cooking process much more efficient. Once the oven reaches the correct temperature, it can cook your pizza in just 60 seconds.
WoodFlame Portable Wood Burning Stove
Despite the easy to transport design, the stove is robust enough for any camping trip. The WoodFlame Stove folds down flat to pack away easily. However, once you're on-site, it provides a large cooking area to feed the family.
BISON Portable Rolling BBQ Grill
Featuring a unique design, this outdoor grill can roll up into a compact size. It's also easy and intuitive to set up. In fact, setting up the BISON takes less than a minute so you can focus on flavor.
Stay hydrated while exploring
One of the most biggest concerns of camping is having access to clean drinking water. These modern portable water filters makes access to clean water easier than ever.
Purisoo All-In-One Portable Water Purifier Bottle
Simply place the bottle into the water source and pull the pump. Water instantly fills the bottle through the filters. The hollow fiber membrane, activated carbon, and fabric filter work together to remove 99.99% of protozoans and bacteria.
GRAYL Ultralight Portable Water Purifier
This innovative water bottle is complete with a built-in filter to give you the water your body needs. The GRAYL Ultralight works very similarly to a French press. TO use, simply fill the vessel with water from any source.
MSR TrailShot Microfilter Portable Water Filter
Fitting in your pocket, it's a must-have for any adventurer. The TrailShot gives you the gift of water anywhere. Simply place the hose into any water source and begin to drink. The built-in filter rids the water of harmful bacteria and germs so you can rest assured you're getting great hydration.
Have enough lights to feel safe
Having lights inside your tent is crucial for enjoying your adventure after dark. To ensure your tent is well lit, take along these lanterns.
Goal Zero Crush Light Collapsible Solar Lantern
Drawing power from the sun, the lantern offers 60 lumens of usable light if you use it on high. Likewise, it provides 35 hours of light on low. Aside from three light settings, the Crush Light even comes with a flickering candle mode for ambience.
Lander Cairn Rechargeable Camping Lantern
Designed to attach to your gear, this light source is lightweight yet highly durable. The Cairn Lantern pumps out a bright 300 lumens so the adventures never have to end. In addition, it sports a built-in power bank as well as a USB port.
BioLite SiteLight XL Portable Light
Coming in a globe shape, this system folds flat for easy transportation. The SiteLight XL measures an impressive 12.6 inches long and 11 inches wide when fully assembled to offer a superbly bright light.
Multi-tools for any job
Whether you're cooking or hacking through the thick forest, multi-tools will always come handy on your camping trip. Always go for one with a multitude of useful functions to be prepared for anything.
BitzBlade 2.0 Everyday Carry Multi-Tool
Sleek and slim, this tool offers an impressive 26 different functions so you can do everything from survive in the woods to fix things at home. The BitzBlade 2.0 includes 9 interchangeable double-sided S2 steel bits.
Caswell Morphing Karambit Utility Pocket Knife
Featuring intuitive blade deployment, you don't have to remove your fingers from the Morphing Karambit to let the blade pass. Thanks to this design, it's safer to use since your fingers do not cross the rotational path of the blade.
Tactica Gear M100 Pocket Multi-Tool
Offering over 18 tools, the M100 adapts to your needs and guarantees that you have the right tools for any occasion. The internal storage compartment enables you to choose the right tool for your outing in just seconds.
Of course, there are always some things to give you the comforts of home no matter where you go like a wearable sleeping bag or a mosquito thwarting hammock. Camping is a way of treating yourself with nature and its simplicity is the ultimate relaxation.
Did we miss out something? Let us know in the comments below.
The Gadget Flow Daily Digest highlights and explores the latest in tech trends to keep you informed. Want it straight to your inbox? Subscribe ➜