Credit Card-Sized µPeek Turns Your Phone into a Microscope
For most of us, the formidable photographic abilities of the modern smartphone result in great holiday snaps. But in recent times, the scientific community has recognized the potential for using these powerful pocket devices for something more revolutionary. Just last year, a startup named SVOne brought to market an iPhone add-on that can replace $20,000-worth of optometry equipment. This year's equivalent is µPeak — a credit card-sized microscope that streams a live view of tiny things straight to your phone.
The device is as flat as an iPhone, and weighs just two ounces, yet is capable of magnifying objects by forty times. To provide some perspective, that allows the user to take a head-and-shoulders portrait of a fly. Despite its scientific ambitions, µPeak is very simple to use; after pairing it with your Android or iOS device via Bluetooth, you stick the microscope to the back of your handset. You then place it on top of whatever you want to study. A ring of lights illuminates the subject with white light, while the Blue version of µPeak also has UV lighting available.
The results are spectacular, and the better your phone's camera, the greater the detail. The microscope is self powered, with a battery life of four hours, and it comes with a slide holder. The accompanying camera app allows you to focus manually and capture what you see.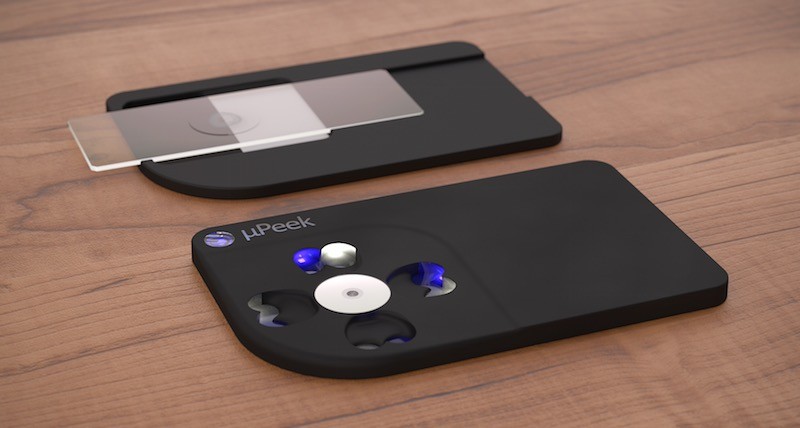 Scrona, the team behind µPeak, hopes the device will be used in the classroom, and by professionals wanting magnification in the field. The startup is currently raising production funds via Kickstarter, where the base µPeak White is available to pre-order for SFr 135 (approx. $135), and the UV-enabled µPeak Blue is SFr 145 ($145). At these kinds of prices, it is easy to see every classroom soon filling with mobile microscopes.