The Asus Chromebit Dongle Gives Any Screen a PC Brain
The desktop computer is an endangered species. Just in the past few weeks, we have reported the arrival of an unimaginably thin laptop, and a whole family of devices which rely on a smartwatch for their processing power. In terms of everyday computing, the tower PC is near to being obsolete. But that is not to say that big-screen computing is dead — it is simply mutating. Google's Chromecast led the way, turning any screen into a Smart TV, and now Asus wants to take things a step further. Unveiled this week, the Chromebit is effectively a $100 computer in a dongle.
The new device is compatible with any monitor or TV that has a free HDMI port, and it runs on Google's internet-dependent operating system, Chrome OS. Indeed, the dongle houses the same Rockwell processor used in Asus' Chromebooks, with 2GB of RAM and 16GB of solid-state storage. Connectivity is provided by 802.11ac Wi-Fi, Bluetooth 4.0, and a USB 2.0 port at the opposite end from the HDMI jack. To control this mini PC, you need to plug in or wirelessly connect a mouse and a keyboard, but otherwise, it is completely self-contained.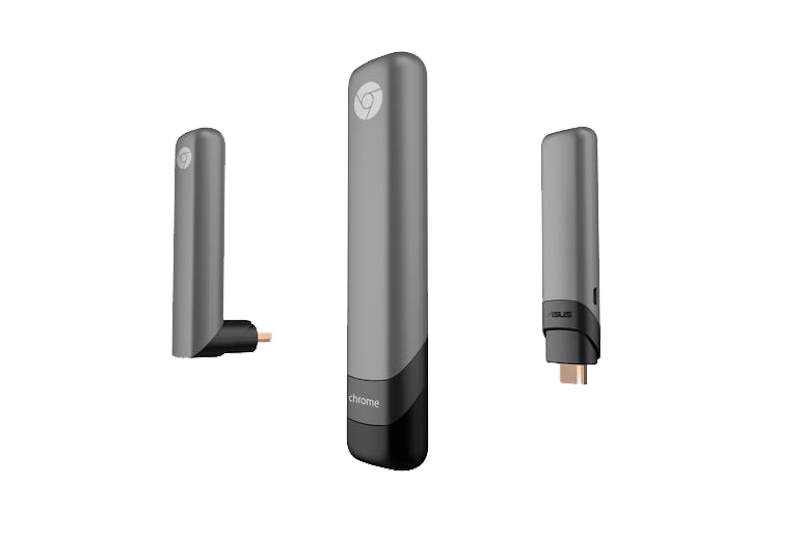 The potential uses for the Chromebit are wide-ranging. Most obviously, it has the ability to turn the main TV of the house into a machine that is capable of much more than just streaming pictures from another device. Along with the full Chrome web browser, users will be able to download apps (including some with offline abilities) from the Chrome Web Store, so nearly all areas of everyday computing should be covered. This could also make the Chromebit useful in the projector-centered workplace, and as a standalone pocket PC. Asus sees use-cases in retail and advertising, too.
The Chromebit is due to launch this summer, and Asus has stated that the price will be under $100. At such a low price point, and with Google apparently gearing up for another wave of Chrome OS enthusiasm, the future for devices like this is certainly promising.
Stay tuned to Google's Chrome Blog for updates.