Withings ScanWatch Light & ScanWatch 2 health smartwatches are like personal health assistants
Step into the future of health and style with the Withings ScanWatch Light and ScanWatch 2. They take fitness tracking to new heights. Plus, they boast an impressive 30-day battery life.
Withings ScanWatch Light and ScanWatch 2 are both health-focused smartwatches equipped with features for tracking movement, heart rate, and menstrual cycles. Plus, they boast an impressive 30-day battery life.
Smartwatches offer a wide range of features and functions that make them highly useful as well as convenient for users. From tracking your steps to keeping your heart rate in check, these smartwatches have become a health staple among many.
IFA 2023 showcased a wide array of innovative smartwatches, including the Withings ScanWatches. The brand came out with a bang with its ScanWatch Light and ScanWatch 2.
You may find these smartwatches intriguing for their wellness-focused approach and sleek designs. Keep reading for my review of the similarities and differences between these smartwatches. Let's delve into their distinct features and designs.
Sleek design
Upon initial glance, these smartwatches might easily be mistaken for a traditional wristwatch, as they don't have the typical tech-oriented aesthetic commonly associated with most smartwatches.
You can tell that the brand opted for a more fashionable design, making them suitable for both formal occasions and relaxed, everyday wear. While some people like this subtle look, I definitely know more tech-focused individuals who want their watch to scream, "smartwatch!"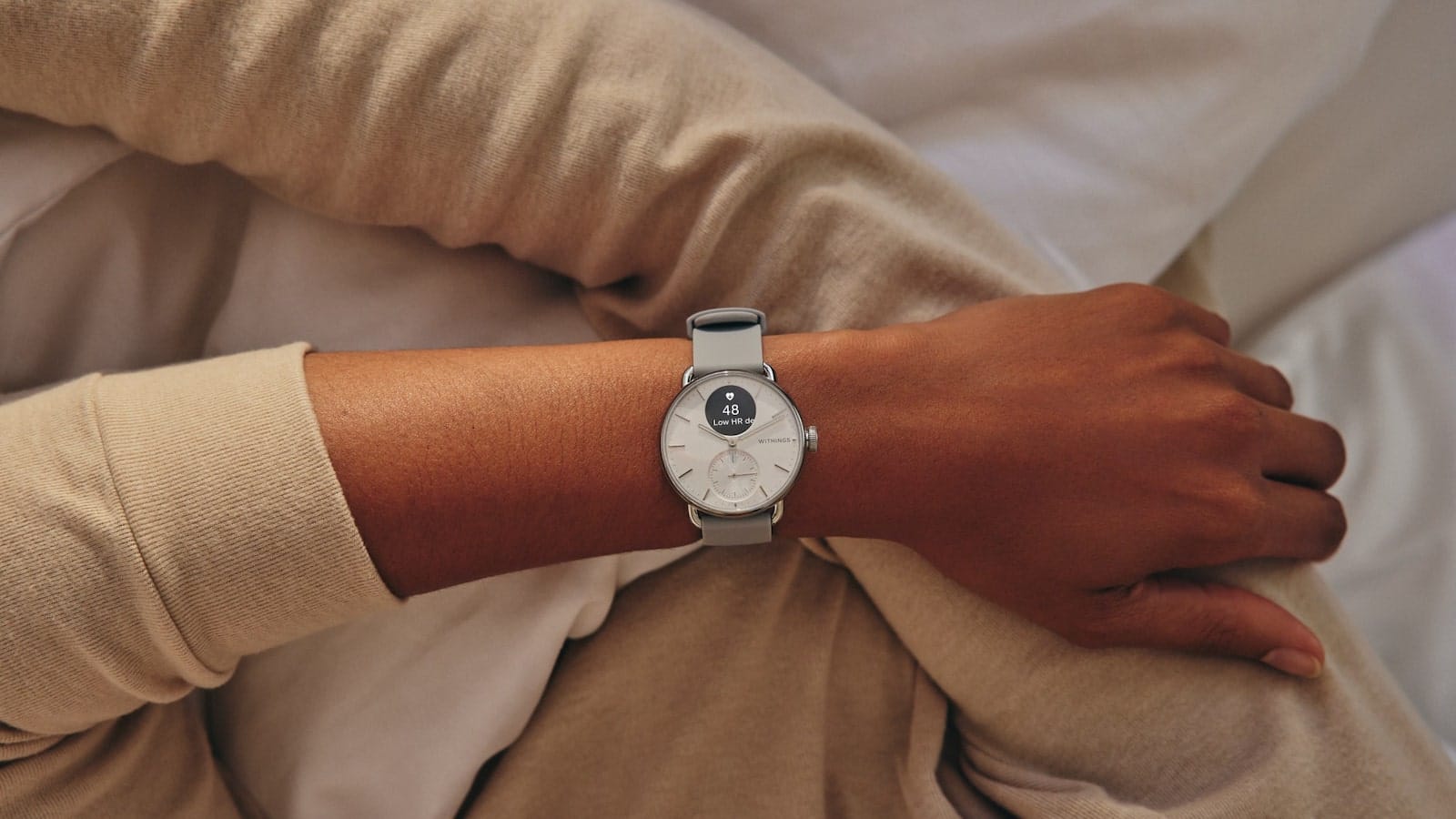 Quality and Sizing
With the ScanWatch 2, we are given an option between 38 mm and 42 mm. In contrast, the ScanWatch Light offers a single size of 37 mm. ScanWatch Light and ScanWatch 2 also did us a favor with an OLED display measuring 0.63 inches.
The watches feature stainless steel and a rotating crown, which is handy for easy guidance. ScanWatch 2 offers Gorilla Glass protection, while the ScanWatch Light comes with a Sapphire glass display.
These two models are also water resistant, with the ability to withstand water up to a depth of 5 meters.
Color Options
Both models of these health smartwatches come with 3 color choices. You can opt for Silver Black, Silver White, or Rose Gold Sand. Additionally, you can explore your style with the extra wristbands, which offer versatile colors as well as silver models.
Health tracker
The main strength of the Withings smartwatches is wellness-tracking. Walking, running, and swimming can all be automatically detected and tracked by the ScanWatch.
Both ScanWatch Light and ScanWatch 2 will also track your female cycle and evaluate it along with your further metrics, like your sleep schedule, to see how your menstrual flow evolves. 
TempTech 24/7 module
The ScanWatch 2 stands out with its groundbreaking TempTech24/7 Module, a remarkable addition to health wearables. It introduces day and night temperature tracking, providing insight into your baseline temperature fluctuations that can signal potential health issues.
This feature not only boosts your well-being awareness but also helps optimize your performance and recovery during workouts. 
Though the ScanWatch Light lacks the TempTech 24/7 module, it still gives insights into your physical activities, heart rate, sleep patterns, and menstrual cycle. And it facilitates cardiac coherence sessions.
Ample Battery Life
If the health features did not shock you, then the month-long battery life of these health smartwatches definitely will. I think the 30-day battery duration is sufficient for both active and casual smartwatch users.
While actual battery performance may vary based on your level of device activity, it still remains a standout feature that showcases the efficiency of the ScanWatch.
Withings Application
The ScanWatch app—Withings Health Mate—is where you can dive deeper into your health data and customize your settings. The app is available for both Android and iOS users and easily connects to your device via Bluetooth 4.0.
Keep in mind that the app won't enable you to take calls or send and receive messages. Also note that your phone has to be by your side for location tracking since the ScanWatch doesn't include a built-in GPS tracker. 
The dashboard is where you can find your comprehensive fitness and health info, like your daily step count, resting heart rate, and sleep measurements. The home screen will show only the latest data on your health and movement measures.
Also, with the Withings apps, you can connect to more than 100 fitness apps, which is pretty cool for fitness geeks like me. All your health data is stored within the app, which will even allow you to share personal health analytics with your doctor.
Pricing and Availability
ScanWatch Light retails for $249.95, whereas ScanWatch 2 is a bit pricier at $349.95. Both of these health smartwatches are available on the Withings official website.