Lighten your teeth up to 6 shades with the Primal Life Organics LED Teeth Whitening System
Want a smile that shines like the sun? Meet the Primal Life Organics LED Teeth Whitening System! It's the ultimate solution for a brighter, healthier smile.
Smile with confidence when you use the Primal Life Organics LED Teeth Whitening System. This natural teeth-whitening kit lightens your teeth up to 6 shades—without harsh chemicals—in just 16 minutes!
Want a brighter smile but have sensitive teeth? Maybe the idea of coating your chompers with a layer of peroxide-infused gel freaks you out. The creators of the Primal Life Organics LED Teeth Whitening System understand.
So they developed a system that basically power washes the coffee and red wine stains right out of your teeth—without harsh chemicals or expensive visits to the dentist.
It treats the root cause of yellowing teeth—damaged dentin and enamel—with red and blue LEDs. Best of all, the treatment is pain-free and anyone can use it, even people with sensitive teeth.
Let's dive in and learn more about this exciting teeth-whitening system!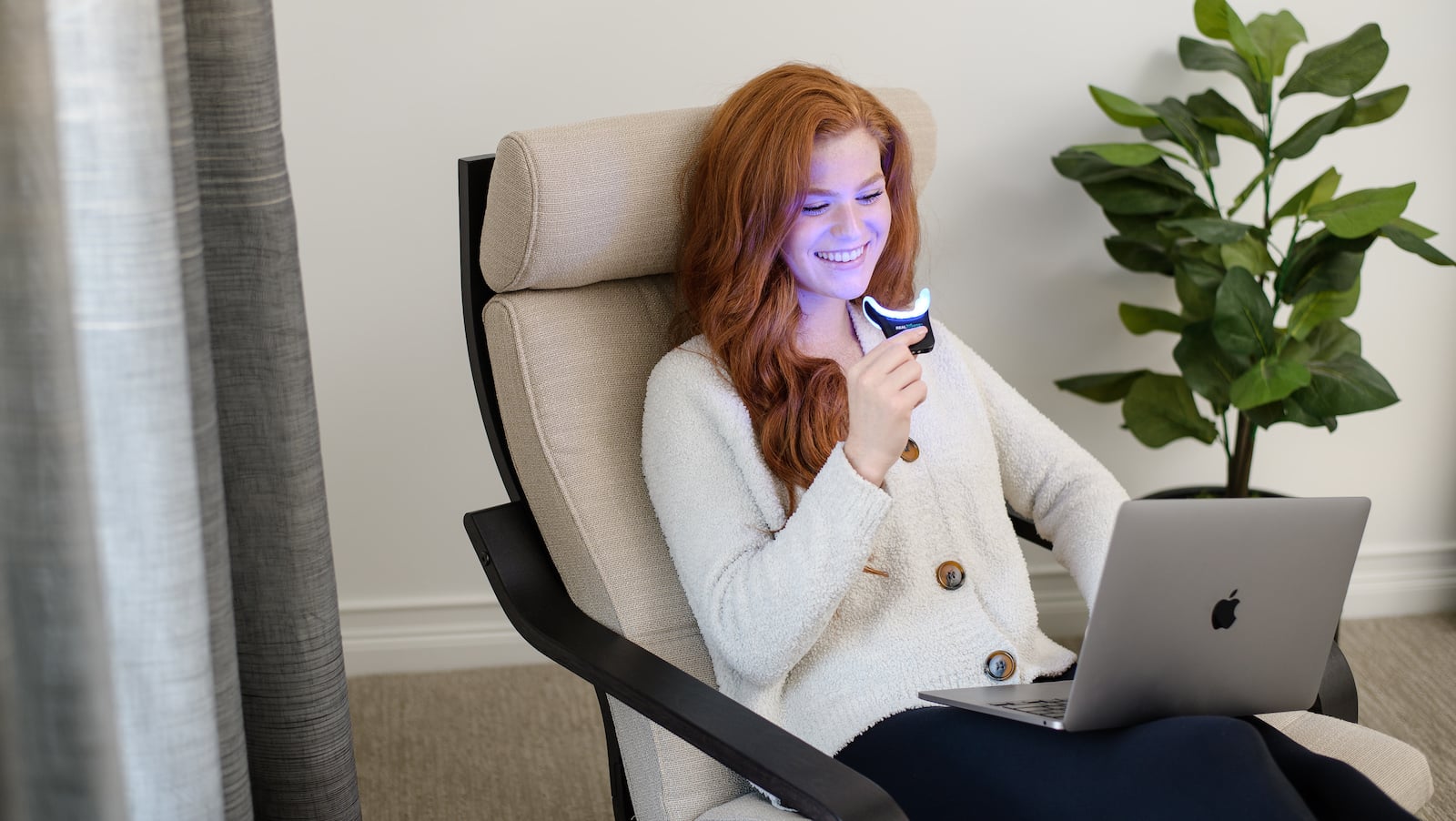 A whiter smile directly affects your relationships
Studies show that a whiter smile can lead to more successful interactions, both professionally and socially. Just check out the "The Impact of Whiter Teeth on Key First Impressions" study funded by Crest Whitestrips.
The 3-part study found that participants were more likely to land a dream job, receive a higher salary, and find romantic partners after their teeth had been whitened.
Whiter teeth can make you look healthier and younger, so it's no surprise that tooth-whitening products are a hot trend everywhere.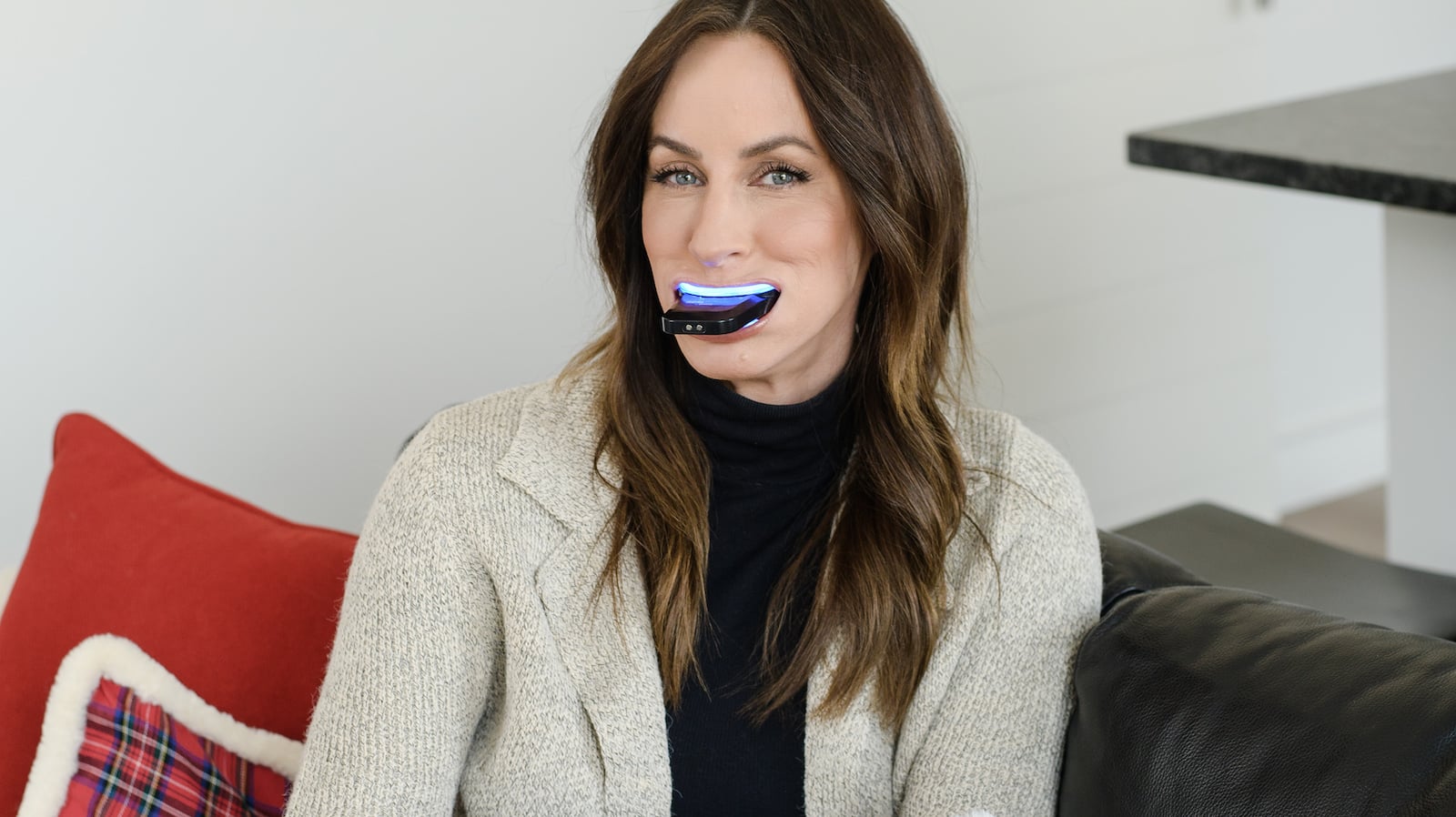 But most teeth-whitening solutions have a dirty little secret
The creator of Primal Life Organics, Trina Felber, wanted to whiten her own smile. But she was shocked to find that most teeth-whitening options—strips, whitening pens, toothpaste, and trays—were packed with bleaching agents.
And she believes they do more harm than good to your teeth and health. With 3 decades of experience in the medical field, Trina was determined to find a 100% natural solution.
So she developed this natural teeth-whitening kit. It treats the root cause of tooth yellowing for a long-lasting, whiter smile that doesn't damage tooth health.
Teeth yellow internally and externally
It took a lot of research, but she stumbled on a solution: a trick that treats the whole issue of yellowing teeth. That means it helps with internal as well external yellowing.
External yellowing of the tooth is typically caused by contact with acidic and highly pigmented foods. But the internal layer of dentin in your tooth can also cause a tooth to appear yellow.
How does it happen? As tooth enamel wears down, it becomes more transparent, allowing you to see the dentin layer beneath. And, unfortunately, yellowish dentin becomes darker as you age.
A teeth-whitening trick that treats internal and external yellowing
Luckily, there is a method that both restores and whitens tooth enamel and removes surface stains. What's more, it can even repair the dentin layer beneath your enamel.
It's practically a full-scale whitening detox, and it doesn't use dangerous and nasty-tasting chemicals. What is it? It's the blue and red LED light frequencies that cause stains to disappear.
And they can make you truly proud of the smile you see in the bathroom mirror.
A red and blue LED tooth-whitening system
According to Primal Life Organics, red LED light can actually heal the dentin layer of your teeth. Not only that, but red LED light also destroys bacteria that lead to internal yellowing. And it doesn't just act on your teeth; it treats your gums too!
Then, blue LED light helps your teeth get white again. In fact, researchers have even found that brushing with a blue light toothbrush significantly reduces plaque buildup
So this natural teeth-whitening kit takes the gunk off, allowing you to whiten your teeth and get a truly healthier and whiter smile.
A 100% wireless design is super convenient
How does it all work? This natural teeth whitening kit comes with a great-tasting natural whitening gel. You apply it to your teeth and then use the LED mouthpiece.
The red light technology will activate, eliminating bacteria and ensuring every nook and cranny of your smile gets whiter.
Even better, this system is super easy to use thanks to a wireless design. You also won't need any extra batteries or trays. All you have to do is apply the gel, insert the silicone LED teeth whitener, plug it into your phone, and set a timer for 16 minutes.
And just like that, your teeth can be up to 6 shades lighter!
Three powerful modes give you healthier, whiter teeth
Meanwhile, this health gadget offers 3 powerful LED modes: Red, Blue, and Red/Blue. We already mentioned that the red LEDs help with gum issues. Specifically, the 16 red lights can improve wound healing, aid tissue repair, relieve pain, and prevent mouth sores. It uses a wavelength of 620–680 nm.
Then, the 16 blue LEDs remove plaque and dissolve exterior stains, bringing out your smile. It uses a wavelength of 450–475 nm.
Finally, the 32 Red/Blue mode prevents mouth sores, improves tissue repair, and relieves pain all at once.
The natural Real White Gel quickens the process
Typical whitening gels and toothpastes can contain harsh chemicals that harm your teeth in the long run. So why does this natural teeth-whitening kit come with a gel?
According to the company, its Real White Gel uses 100% natural ingredients like activated charcoal, Hydroxypapitite, and 2 mineral clays. It can give you a whiter smile when used with LEDs and helps the process work in minutes.
A safe, natural teeth-whitening solution
If you're looking for a safe, natural, and effective teeth-whitening solution that treats the root cause of yellowing, then the Primal Life Organics LED Teeth Whitening System is worth checking out.
With its fast-acting treatment and easy-to-use design, it can whiten your teeth by up to 6 shades in just 16 minutes. And the best part? It does so without any harsh chemicals or bleaches that can harm your enamel. So try it out today and get ready to love your smile!
Get the Primal Life Organics LED Teeth Whitening System for just $199.97 on the official website. What do you love about this product? Let us know!